Comfortable accommodation Down on the farm
in Ypäjä, the equine capital of Finland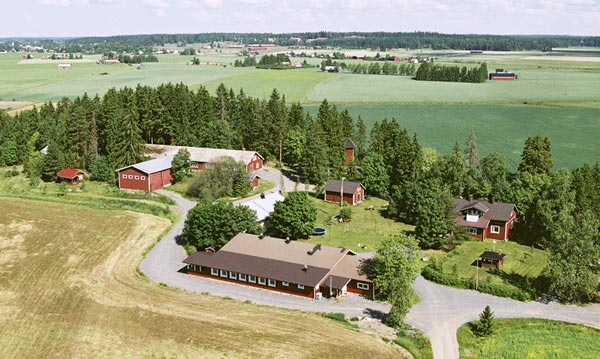 The atmosphere at Hannu and Päivi Paija's farm is relaxed and your welcoming: The hosts will ensure you have a great stay. Make the most of the big, beautiful garden, the comfortable accommodation, and our conference and function facilities.
The host family lives in another building on the farm and are close at hand when required.
Paijan Maatilamajoitus offers comfortable accommodation in the old farmhouse building. The farmhouse has a range of rooms of different sizes on two floors, with a first floor balcony ideal for morning coffee in the sun.
Breakfast can be included and the fully-equipped farmhouse kitchen with dining area is available for the use of guests.
Parties, meetings, courses
The farm is ideal for family celebrations, meetings, courses or even camps. Your own space, the large garden, great catering and pleasant conference and function facilities make for a party to remember or a successful conference.
Sauna is an essential part of the Finnish farm holiday experience and children in particular will enjoy the swimming pool, which is open during summer time only.
Your hosts can help you find lots more to do in the local area, from pony trekking and canoeing to golf. If you're looking to spend a carefree, relaxing break in the peace of the countryside, Paija is an excellent choise for you.
Paijan Maatilamajoitus is located in the rural tranquillity of Ypäjä. The old farmhouse has been converted into comfortable accommodation for holiday guests. There's no lack of creature comforts and the relaxed atmosphere is sure to make you feel at home.
The farm's large garden and hall are particularly suitable for summer weddings and birthday celebrations. There's plenty of space to enjoy the peaceful country side of Southern Finland. Children have a wonderful time playing safely in the large garden.
Get together
Paijan Maatilamajoitus is ideal for conferences and courses and is especially suitable for various intensive camps, with evening entertainment and training sessions. As the farm is ideally located in the peace of the countryside, other distractions
If, on the other hand, it's activities you're after, pony trekking with FinnHorse Tours and riding can be booked to order. Why not have a go, whether on your own or with a group of friends or colleagues.
The farm also sells its own produce for you to take home, so there's no need to head back to home empty handed.
Paijan Maatilamajoitus is all about informality and relaxation – in true country style.
WELCOME !
Feel free to contact us for booking & more information
TEL: + 358 50 5696945
E-MAIL: info (at) paija.fi
[map h="300″ w="600″ z="12″ lat="60.7816″ lon="23.3096″ marker="yes"]
Agreement terms regarding countryside holidays
PDF: Agreement terms (english)